May 19, 2022
4 Cold Brew Coffee Recipes to Beat the Summer Heat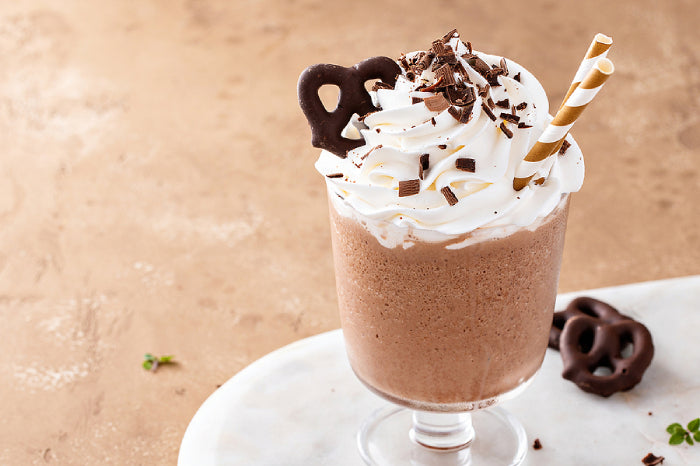 The summer heat is fully underway in Singapore, which is your cue to put aside that hot cup of Joe and get ready for a refreshing cold treat. You probably agree that nothing much beats sipping a delicious cold brew while soaking up the hot summer sun!
The daily temperature reports are the reminders you need that now is the perfect time to dabble with your heretofore unattempted cold brew coffee recipes. Fancy catching a break from the heat and discovering some new summer treats? Why not throw on your apron and try your hand at whipping up these recipes for your pick-me-up caffeine fix?
1. Cold Brew Coffee Popsicles
These yummy coffee pops feature a kick of caffeine and a dash of protein to keep you pumped up in the hot days ahead. Combine all the ingredients in a blender, mix until smooth, and pour the mixture into pop moulds; you can also add in some cacao nibs and honey for a dazzling hint of extra flavour. This one's a breeze to whip up for an ultimate summer treat!
6 oz of cold brew black coffee concentrate
2 tsp. ground cinnamon
One banana
1 tbsp. unsweetened cocoa powder
1 tbsp. peanut butter
Eight oz. coconut milk 
2. Caramel Cold Brew Ice Cream
Cool down and caffeinate with this cold brew coffee ice cream, a delectable treat with a frozen twist for all coffee and ice cream lovers out there. For this recipe, mix all the ingredients in a bowl, pour into a container, and cover and freeze. You can also drizzle it with salt-kissed caramel syrup, and there you've found the most delicious way to get your caffeine fix!
¼ cup cold brew caramel coffee concentrate
2 cups heavy whipping cream
½ cup sweetened condensed milk
creamer
3. Peanut-Butter-and-Banana Cold Brew Protein Smoothie
The ultimate flavour combo of coffee, peanut butter, and banana comes together in this nutritional protein shake so you can conquer the world in the a.m. It's a filling, on-the-go breakfast smoothie for the busy folks out there who have many things going on in the mornings, but it's also a fabulous afternoon pick-me-up for everyone. Combine all the ingredients in a high-speed blender until smooth, and voila! 
¼ cup cold brew concentrate
one large frozen banana
two tablespoons peanut butter
¼ cup vanilla or chocolate powder 
½ cup unsweetened almond milk 
4. Cold Brew Caramel Coffee Milkshakes
Magic is what happens when you mix coffee and ice cream together! Combine all the ingredients in a medium-high speed blender until smooth, and top up with whipped cream and caramel sauce — this will add a nice caramel-ly flair to the thick, rich cream's delectable coffee flavour. Whip this up, and we promise you one glass isn't going to be enough!
2/3 cup cold brew caramel coffee concentrate
16 oz vanilla ice cream
¼ tsp ground cinnamon
1/8 tsp salt
Conclusion
These recipes will certainly make your summer more refreshing and lend you the energy you need through any hot and tiring day, and the perfect alternative for cold brew coffee delivery. There's a world of delicious opportunities with cold brew coffee in Singapore, even cold brew coffee cocktail if you're feeling adventurous! If you want to buy coffee in bulk, Wake the Crew has just the thing for you. With our flavorful and high-quality coffee concentrates, you are always just five minutes away from creating the cool and refreshing recipes you love.