April 27, 2022
4 Reasons You Should Cater A Coffee Cart For Your Next Event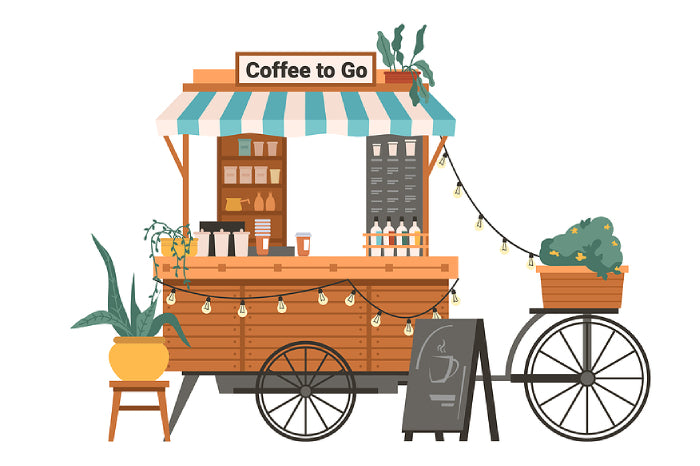 The premise of onsite coffee shops has always been that coffee-lovers are willing to walk the distance to buy their favourite speciality drinks — but when you arrange for a mobile coffee catering service, you bring their favourite beverages to them instead! For free! What's not to like? 
Besides, there is a reason why cold brews are so popular in Singapore. So instead of opting for time-worn food catering, why not switch up your next event or party with a mobile coffee cart stacked with bottled cold brews? You can even upgrade that with a coffee machine and hire a barista to make speciality drinks! Talk about trendsetting. 
A cup of caffeinated goodness may be what you need to create a splash at your next party or event. Here are some reasons why coffee catering is the next big thing to perk up your social get-togethers. 
1. It meets the need for coffee 
Waking up in the morning is a hard gig. If someone were scheduled to attend early-morning meetings, conferences, or other professional meetups, they want to be in their element. They want to be clear-eyed and sharp-witted. In other words, they need a caffeine boost!
Some events, like conventions and exhibitions, require attendees to be on their feet for hours on end — this results in the need for a coffee fix to keep their energy levels up or convince them to stay longer. And in any case, it's always nice to keep a coffee mill on standby for the traditional coffee break!
2. It keeps people together
Event planners and organisers cannot afford guests to "wander off" looking for a good brew. It's better to work around this situation by hiring a coffee caterer, so coffee is always available to the guest.
A coffee stall is also a crowd puller. It provides a dedicated space for attendees to enjoy their coffee and engage with their fellow guests. In professional events, this results in a valuable networking session, and in celebratory shindigs, it results in a livelier party. 
3. It improves the guest experience
Coffee offers something for everyone. Not everyone drinks alcohol, so providing a coffee bar alongside the traditional wine bar will be a considerate option for non-drinkers. 
Moreover, coffee can be served in countless ways. If it's too hot for lattes, one can whip up a mocha cold brew coffee instead. Having a good cup of joe after a fancy dinner might be what some people would go for instead of wine or brandy.
4. It provides positive branding and association
Coffee carts can bring an element of brand awareness to your event by customising the setup with your company name, brand logo, event hashtags, etc. At Wake The Crew, we offer a highly customisable coffee cart with free label design on all our bottled beverages.
The experience can create more awareness and positive branding for your brand or event, converting them into loyal customers or potential ones more likely to choose your brand in the future. 
Conclusion
If you need a coffee caterer to bring the above special touches to your event, let us help! We provide and deliver ready to drink cold brew coffee in Singapore, as well as cold brew coffee on tap at your event venue (subject to safe management measures). Get in touch with us today for more information!