December 13, 2020
Tiramisu with Baileys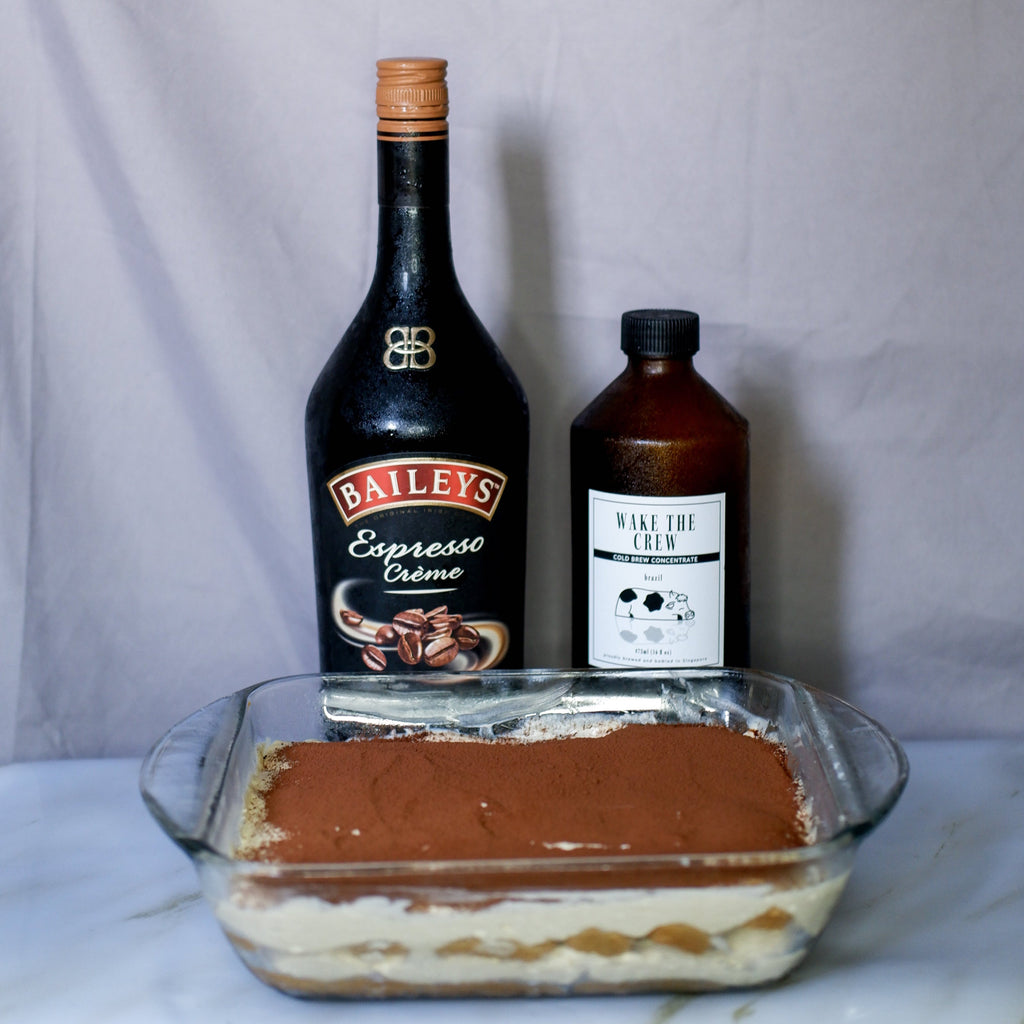 We have finally released our first ever dessert recipe — Tiramisu with Baileys! This requires minimal whisking (although using a stand mixer would save you some strength), mixing it with a whisk is also good! We loved this tiramisu recipe and it's super easy to make with our coffee concentrates.
Just remember to prepare it a day in advance so that the tiramisu can set. Also, be sure not to overdip your cookies because it will be come a soggy mess and the tiramisu would become really soggy. It's a perfect dessert for yourself, or even for your guests at the next potluck party!
Ingredients
150ml Baileys Irish Cream (We used the Espresso creme version)

224g Ladyfingers (Savoiardi cookies)

2 Eggs

65g Caster Sugar

450 Mascarpone Cheese

2tsp Cocoa Powder
Recipe:
Mix cold brew coffee concentrate with 90 ml of the Baileys. Pour into a shallow bowl and set aside.

Separate the eggs, and keep only 1 egg white. In a medium bowl, whisk egg yolks and sugar together until it becomes thick, pale yellow, and forms a ribbon when the whisk is lifted out of the bowl (around 1-2 minutes if using machine). Add the 60 ml Baileys (remaining) and mascarpone cheese, and whisk until the mixture is smooth and combined.

In a separate bowl, whisk the egg white until soft peaks form. (I recommend using a hand mixer, but your hands work well too) Fold the egg white into the mascarpone mixture.

Dip the cookies individually into the coffee Baileys mixture and let them soak just long enough to become damp but not soggy. (Around 1 second per side is enough) Line the bottom of a 23-cm square glass dish (transparent if you want to see the layers) with a layer of dipped cookies, then spread half the mascarpone mixture over. Repeat with another layer of soaked cookies, then top with all the remaining mascarpone mixture. Cover the dish with cling wrap and leave in fridge until set, around 8 hours or overnight.

Sieve cocoa powder over your tiramisu and serve.